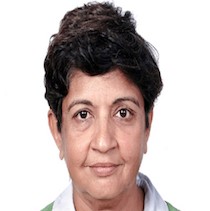 Email: kkanwar@stanton.edu
Dr. Kiran Kanwar serves as the Program Chair of the Golf Department at Stanton University, where she is, amongst other roles, involved in curriculum development for the Professional Golf and Golf Complexes Management degree program. She also teaches a variety of golf-related subjects as well as some general education science and English courses.
She believes in having the best-in-class curricula for every course she develops and is passionate about everything she does, including getting students motivated and excited about any course they take. She has a Ph.D. in Kinesiology (Biomechanics and Anatomy) and an M.S. in Sports Science and Nutrition. She has been a golf instructor for over 33 years and is an LPGA Master golf instructor who has won the women's national amateur golf championship in India.
Dr. Kanwar has researched the golf swing for over 29 years and developed the Minimalist Golf Swing System for full-swing and short game which has been shown through research to improve performance and reduce injury risk. Her goal is to help all skill levels of golfers enjoy golf more through playing better. Her academic goal is also linked to this, as she hopes to engender a love of golf in all her students.